Bridges
Worn or missing teeth can ruin your smile, but they also make things like chewing or talking difficult too. Dental bridges have the power to restore your smile by filling the gap with artificial teeth.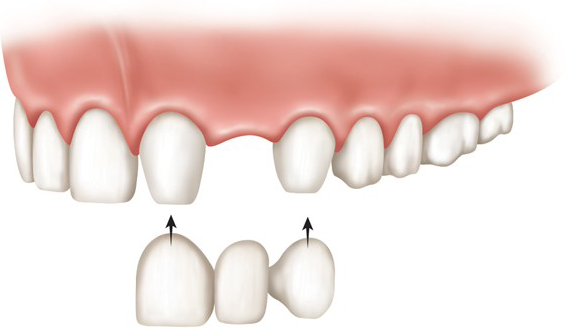 Bridge the gap between your teeth
Dental bridges consist of one or a row of false teeth, which anchor onto crowns that are placed over the two neighbouring healthy teeth. And thanks to new tooth-coloured ceramics, dental bridges can blend seamlessly into your smile.
The components of a dental bridge
A dental bridge consists of two main parts:
Two crowns, placed over the teeth surrounding the gap. These must have enough tooth structure and sufficient bone support to support a bridge.
An artificial tooth, also called a pontic, which is made of gold, alloys, tooth-coloured porcelain or a combination of alloys and porcelain. The pontic is anchored between the crowns.
The process of placing dental bridges
We'll always start treatment with a consultation to determine whether dental bridges are the most appropriate to replace your worn or missing teeth. After that, dental bridges can be placed over two appointments:
▸ Appointment 1:
During the first appointment, we'll trim the teeth on either side of the gap under a local anaesthetic, so they are ready to accommodate their crowns. Next, we'll take a mould of your teeth, which is used by our technicians to make your bridge. Finally, we fit a temporary bridge and determine the desired colour of your new one.
▸ Appointment 2:
During the second appointment we'll remove the temporary bridge and place your new one. If we are happy with the fit and colour, we'll cement your new dental bridge into place and your smile is restored!
There are many benefits to placing dental bridges:
Bridges dramatically improve your appearance by replacing broken or missing teeth
They improve your speech and chewing
They prevent your bite from altering through teeth moving into the gap
Dental bridges prevent decay as a result of food getting stuck in the gap
They are usually cheaper than dental implants.