Dentures are fixed or removable replacements for missing teeth and are made of artificial gums and teeth that blend in with your natural teeth.
Dentures have been around many years and their function and comfort has greatly improved during that time. The main advantage of dentures is that they provide a more affordable solution than bridges and implants, while still allowing you to talk, eat and socialise with a confident smile.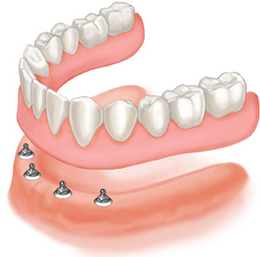 Why you may need dentures
Dentures are always used to replace missing teeth. It's important to fill the gap missing teeth leave behind for both aesthetic and functional reasons.
Chewing, talking and dental hygiene are all much harder when teeth are missing. Furthermore, missing teeth can cause your cheeks to sag, which can make you appear older than you are.
Above all, missing teeth can have a negative impact on your self confidence, but dentures can fix the problem.
The main causes of tooth loss:
The main causes of tooth loss that usually require dentures are:
Trauma
Advanced gum disease
Tooth decay
The different types of dentures
▸ Partial dentures
Also known as "crown and bridge" dentures, partial dentures only replace a portion of your teeth.
▸ Complete dentures
Complete dentures are used in cases where all teeth are missing in a single arch (upper or lower arch).