Like false fingernails for your teeth, dental veneers are extremely thin layers of porcelain that are bonded to the front of your teeth.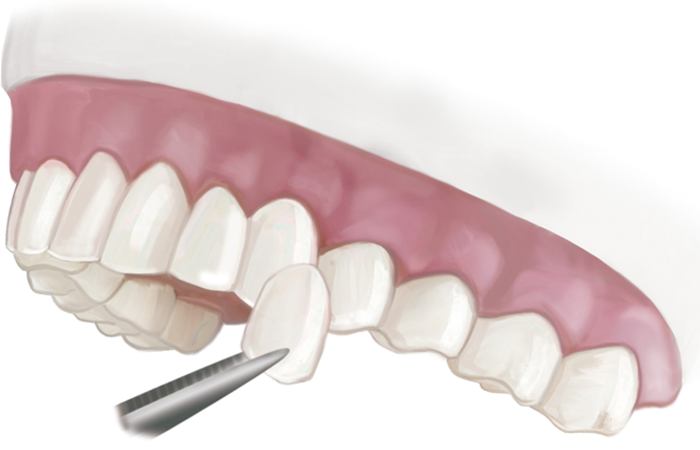 Dental veneers can be used to cover up imperfections, make your teeth whiter and give them a perfect shape.
Once bonded to your teeth, dental veneers are unbelievably strong, resulting in a beautiful and long-lasting smile.
Why use dental veneers?
With a totally flawless result, veneers are able to produce that 'Hollywood smile' and can be used in the following cases:
To cover badly stained teeth that can't be whitened
To cover chipped, broken or worn teeth
To close gaps between teeth.
In some cases, veneers can be used to cover lightly crooked teeth, producing a much more instant visual result than braces would.
The dental veneers process
Placing dental veneers usually takes three appointments:
▸ Appointment 1:
After discussing how you would like your smile to look, we'll take x-rays and images of your teeth as they are and perform health checks on your teeth and gums. This helps us to determine your options. In most cases, we'll carry out a diagnostic wax-up so you can trial your veneers prior to going ahead with the definitive treatment.
▸ Appointment 2:
During this appointment, we'll take moulds of your teeth, discuss colours and shapes and then use all this information to custom-make your veneers at our in-house lab.
▸ Appointment 3:
During the final appointment, we bond your new veneers to your teeth and you walk out with a new, natural smile!
Frequently asked questions
▸ How long do dental veneers last?
Because they are very strong, they can last 10-15 years.
▸ Do dental veneers look fake?
Thanks to advances in dental technology, our porcelain veneers look very natural. Made of an ultra-thin, almost translucent material, they can perfectly imitate real enamel. Because we custom-make veneers in our lab, we can work from 'the real thing' to get a perfect colour match with your existing teeth too.