If you're suffering from gum disease we can help you overcome it or help you manage the effects, depending on the level of severity you're suffering from.
What is gum disease?
Gum disease is caused by plaque that forms where your teeth meet your gums. The plaque attacks this area leading to inflammation, bleeding and if untreated, potential tooth loss.
Gingivitis vs Periodontitis
There are two levels of severity with gum disease: gingivitis and periodontitis.
Gingivitis:
Early stage gum disease, easy to treat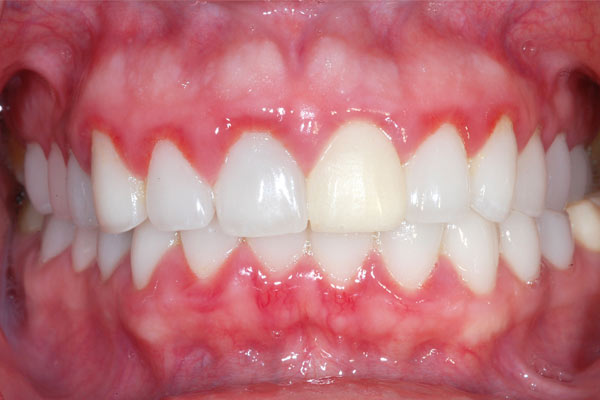 Gingivitis is the less severe version of gum disease. Sufferers of gingivitis experience red, swollen or bleeding gums when brushing or on occasion when eating. Treatment at this level can usually be overcome with a good deal health routine and regular dental hygienists visits to remove the plaque and let the gums settle again.
Periodontitis:
Later stage gum disease, more invasive to treat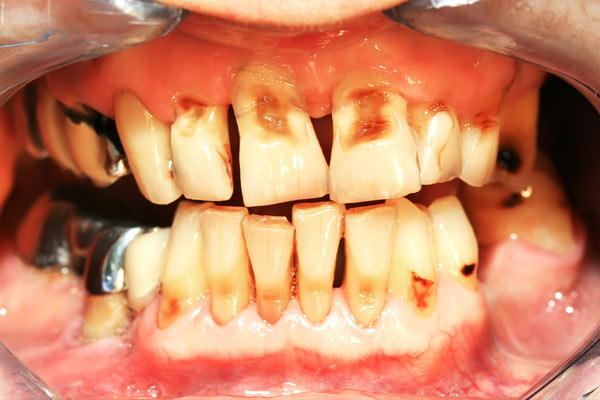 Periodontitis is the more severe version of gum disease involving bone loss, which may in time loosen teeth and cause them to fall out. Treatment at this level is more invasive and usually involves root planing with our Periodontist. The damage may be irreparable and consideration may be given to tooth extraction and replacement.
Identifying gum disease
A regular dental examination will help to identify gum disease very early on so we can provide less invasive treatment faster. If you have inflamed gums or occasional bleeding please get in touch as soon as possible to prevent delay in treatment.
Preventing gum disease
You can minimise the chances of gum disease by following a good oral health routine of brushing twice a day, using mouthwash to help kill bacteria and flossing in between teeth can help to prevent gum disease.
Regular visits to the dental hygienist also help to prevent gum disease by removing the plaque and tartar that builds up where your teeth meet your gums.
Benefits of treatment
Treatment for early signs of gum disease can be carried out by a dental hygienist at low cost
Treating gum disease early can help to prevent tooth loss in later life
Frequently asked questions
▸ What causes gum disease?
Smoking, poor diet and a poor oral health routine. Unfortunately people with diabetes are at a higher risk and should therefore take extra care of their teeth day-to-day.
▸ Does gum disease treatment hurt?
With gingivitis treatment can involve a better oral hygiene routine and regular hygienist appointments, which are pain free. With periodontitis treatment can a little uncomfortable, however treatments such as root planing or tooth extraction are always carried out under local anaesthetic.